What is BioResponse DIM®?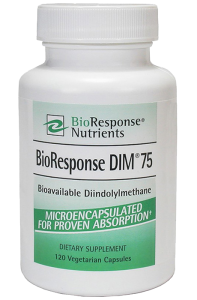 BioResponse DIM® is a proprietary microencapsulated formulation with absorption-enhanced DIM.  BioResponse DIM® is the Dietary Ingredient of choice, backed by scientific studies.
DIM stands for 3,3'-Diindolylmethane, the indole found originally  in cruciferous vegetables.
DIM supports beneficial estrogen metabolism in both women and men.  This estrogen metabolism is more favorable because it increases conversion of estrogen to 2-hydroxy and 2-methoxy metabolites.  Men and women use BioResponse DIM as an integral part of hormonal balance to maintain an optimal  estrogen to testosterone balance.
Prominent researchers have documented that this balance of estrogen metabolites is an important factor in maintaining hormonal health.  Women and men also use BioResponse DIM as an integral part of  breast health, prostate health and successful weight management programs.
In its pure, crystalline state, DIM is inadequately absorbed by the human body.  BioResponse DIM is the only microencapsulated formulation of DIM with proven absorption and activity demonstrated in independently performed clinical studies.  BioResponse's proprietary formulation contains microencapsulated complexes of diindolylmethane.
LEARN MORE:   How BioResponse DIM Works…