The Advantages of BioResponse DIM®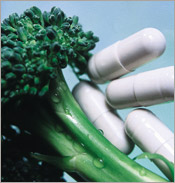 To be beneficial, pure DIM needs to be made bioavailable.  This hurdle was cleared when BioResponse Nutrients developed its unique and proprietary Phytosorb® delivery system for DIM.
BioResponse DIM is the only proprietary microencapsulated technology that guarantees clinically meaningful absorption of DIM.
Our formulation contains pure DIM, no I3C, the unstable indole.
Proprietary Formulation, Proven Absorption
BioResponse DIM® is the only microencapsulated formulation of pure DIM.
BioResponse DIM® is also the only DIM with proven absorption and benefits demonstrated in independently performed clinical studies.  This proprietary technology is currently the only nutrient delivery method that assures predictable absorption and sustained delivery of diindolylmethane.  Learn more about Absorption…
Originators of Microencapsulated, Bioavailable DIM
Michael A. Zeligs, M.D. is the Founder and CEO of BioResponse Nutrients and the co-inventor of microencapsulated diindolylmethane (BioResponse-DIM®).  Dr. Zeligs was the first to discover novel nutritional approaches using DIM, and has numerous patents for uses of DIM for hormonal health, breast health, menstrual health and weight management in women and men.  As a physician dedicated to aging intervention, Dr. Zeligs has an extensive background that includes both clinical and academic work in the endocrinology of aging.  Learn more about Our Company…
THE DIM Used in Clinical Trials
Clinical trials have only used the BioResponse DIM Formulation, including clinical trials using microencapsulated BioResponse DIM to study breast and prostate health.  Clinical trials have recently completed  using BioResponse DIM in collaboration with Wayne State University and the University of Arizona.  Learn more about Clinical Trials…
LEARN MORE: About BioResponse DIM Ingredients…